明治天皇御製 (MEIJI TENNO GYOSEI)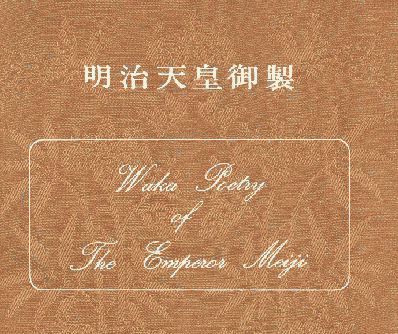 Usui Sensei selected 125 Gyosei (or "waka" (和歌) a Japanese traditional poem) from among about 100,000 poems composed by Emperor Meiji. One of them is chanted at the start of each Usui Reiki Ryoho Gakkai gathering in order for the members to purify their defiled thoughts with the chant, and to prepare the mind for receiving Reiju.


REVERENTIAL COMPOSITIONS BY THE EMPEROR MEIJI
1) 秋の夜の月は昔にかはらねど
世になき人の多くなりぬる (月)
Akino yono tsukiwa mukashini kawaranedo
Yoni nakihitono ooku narinuru (Tsuki)
While a moon on an autumnal night remains just the same as ever,
In this world the number of the deceased has become larger. (Moon)
---
2) あさみどり澄みわたりたる大空の
広きおのが心ともがな (天)
Asamidori sumiwataritaru ohzorano
Hiroki onoga kokoro to mogana (Ten)
As a great sky in clear light green
I wish my heart would be as vast. (Sky)
---
3) 暑しともいはれざりけりにえかえる
水田にたてるしづを思えば (をりにふれて)
Atsushitomo ihare zarikeri niekaeru
Mizutani tateru shizu wo omoheba (Orinifurete)
Thinking of lowly people standing in a boiling hot paddy field
I hesitate to utter "it's hot". (Upon occasion)
---
4) 遠くとも人の行くべき道ゆかば

危き事はあらじとぞ思ふ(道)
Tookutomo hitonoyukubeki michiyukaba 

ayaukikotowa arajitozoomou
No matter how far you go, as long as you take the right path,
nothing dangerous will come to you.
---
5) 千早ぶる神のひらきし道をまた

開くは人のちからなりけり
Chihayaburu kaminohirakishi michiomata

hirakuwahitono chikaranarikeri
It is the vigor of people that will pave further the path paved by god.
---
6) ともすれば思はぬ方にうつるかな

こころすべきはこころなりけり
Tomosureba omowanuhouni utsurukana 

kokorosubekiwa kokoronarikeri
Things are apt to go and unexpected way
What you have to mind is your own mind itself.
---
7) 榊葉にかくる鏡をかがみにて

人もこころを磨けとぞ思ふ
Sakakibani kakurukagamio kagaminite

hitomokokorowo migaketozoomou
A divine mirror covered by the leaves of a Sakaki tree is so shiny without any clouds. 
People polish your soul until it is as the mirror.
---
8) こころある人のいさめの言の葉は

病なき身の薬なりけり
Kokoroaru hitonoisameno kotonohawa

yamainakimino kusurinarikeri
Advice of a sincere person is regarded as great preventive medicine.

---
9) 目に見えぬ神にむかひてはぢざるは

人の心のまことなりけり
Menimienu kaminimukaite hajizaruwa 

hitonokokorono makotonarikeri
Facing invisible gods without having anything to be ashamed of
is to be genuine human.
---
10) われもまたさらにみがかむ曇なき

人の心をかがみにはして
Waremomata saranimigakan kumorinaki 

hitonokokoroo kagaminiwashite 
I (even, if I am the emperor) will polish the mirror of my mind further, learning from ordinary people who has a wonderful clarity of mind.
---
11) 天を恨み人をとがむることもあらじ
わがあやまちを思ふかへせば
Tenwourami hitowotogamuru kotomoaraji

wagaayamachio omoukaeseba
Neither hard feelings towards the universe nor criticism of other people would occur if we notice our own mistakes.
---
12) いささかの傷なき玉もともすれば

塵に光を失ひにけり
Isasakano kizunakitamamo tomosureba 

chirinihikario ushinainikeri
Even a jewel without any flaws can easily lose its sparkle with dust.
---
13) 器にはしたがひながらいはがねも

とほすは水のちからなりけり
Utsuwaniwa shitagainagara iwaganemo 

toosuwamizuno chikaranarikeri
Water is adaptable enough to allow its container to change its shape, however it is also so powerful that it has the strength to penetrate even a solid rock.